Riding together taxi between 10, Shichinohe, Rokkasho-mura Wada Station
Service start more full-scale than November 1, 2016!
 We add two places of getting on and off places from November 1, 2016, and advance reservations system riding together taxi service business to link Shichinohe-Towada Station to Rokkasho-mura will travel as a result of one-year examination service in earnest. (daily life service including the Saturdays, Sundays, and holidays beginning of the year end of the year)
※What is advance reservations system riding together taxi?
・You use with advantageous fare by working as other one and "fellow passengers".
・Even reservation from one person travels.
Reservation center
It is in reservation reception desk now!
Dial (the night sightseeing taxi) for exclusive use of reservation center
TEL 0175-77-3086
Reservation center Opening hours from 9:00 to 17:00
Fare
Adult 3,000 yen (it includes / tax more than one way, junior high student per person)
*Primary schoolchild is at half price. Infants younger than six years are free.

Usage guidance
1) Riding together taxi is advance reservations system   
 Without prior reservation, we cannot take.
Please  reserve on the telephone in reservation center mentioned above by 17:00 on the day before on use day.
2) Reservation is call        
 We accept reservation on the telephone.
 Convey number of people name, contact information (phone number), use day, from the following service timetable the departure and arrival time, place  
 Please let know.
3) At the time of ride payment of fare   
 Please pay fare to service taxi company at the time of ride.
4) Cancellation until day before 17:00
 Cancellation of reservation, please contact reservation center mentioned above by 17:00 on the day before on use day.
 As it is other customers and fellow passengers, we do not change at the departure time even if the Shinkansen is delayed.
 About cancellation fee, please see instructions.
5) For questionnaire cooperation     
 We install questionnaire in the inside of car. I would like cooperation.
 ●We became able to reply questionnaire on the Internet.
  ⇒Questionnaire answer from this
Service timetable and getting on and off place
Daily round-trip four flights service. Getting on and off place is five places in Rokkasho-mura, Shichinohe-Towada Station north exit one place.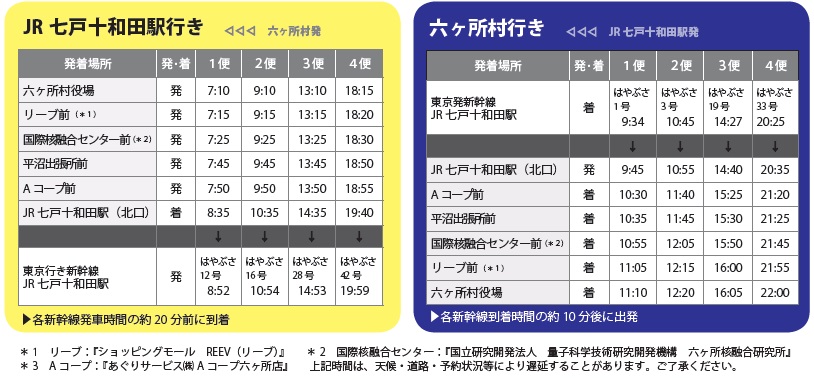 ※In front of 1 Reeve: "Is it habitat first Tatemukai?"
※In front of 2 international nuclear fusion center: "National research and development corporation quantum technology research and development mechanism Rokkasho nuclear fusion research institute" (new name from April, 2016)
※In front of 3A co-op: aguri service A co-op Rokkasho shop
 At the following time, we may delay by weather, road, status. Thank you for your understanding.
Instructions
※

Please read before reservation application by all means.
・As a general rule, we assume riding together by minicab (three passenger capacity).
・As for the infants younger than six years, use charges are free. But ride only for children and infants is impossible.
Rides of adult such as protectors are necessary by all means.
・In service of taxi, we do not guarantee service of the Shinkansen.
We cannot cope with fare refund such as at the time of Shinkansen lack services after the true car run.
・When you cancel, please connect with reservation center the day before by 17:00 on use day.
When you cancel, please note that you occur in the following cases.
 ○When 1.2 flights ... day before does not have communication of cancellation by 17:00
 ○When there is not communication of cancellation within three hours before 3.4 flights ... departure on that day
  ※We demand the one-way fare total amount as cancellation fee.
・Getting on and off place of this taxi is three places in Rokkasho-mura and Shichinohe-Towada Station.
As a general rule, out of getting on and off place cannot get in and out.
・About service condition, please confirm at the time of application.
Guidance of getting on and off place
・Getting on and off place guidance [595KB jpg file]

Service company
Night sightseeing taxi
Sky taxi
Traversing taxi
Towada taxi
385 taxis
Sightseeing in unpleasant slope taxi

Keyword in conjunction with these contents
Published: October 19, 2016 / Updated: June 19, 2018