It is life Festival lifelong learning event shiningly
We invite playing an active part out of the prefecture and hold lecture or experience-based workshop and hold as uplift of consciousness, opportunity of the making of purpose of life to promote participation of learning activity by offering offer and information of place of lifelong learning, and to raise each person's lifelong learning will, and to be independent, and to realize pleasure of learning. 
The date
Saturday, July 28, 2018 from 10:00 to 16:00
※We are going to accept experience-based workshop for the last time at about 15:00.
Place
Cultural exchange plaza Swany
〒039-3212
Kamikita-gun six shomuradaijibi*jiyafu 1-8
☎ 0175-72-3404
Admission
Free of charge
※It costs material cost for experience-based workshop.
 The details, please identify list shown below.
Stagea traction
Time

Contents

10:30 ...

Stagea traction & workshop

nendo creator ochappisan

24 part bear first arrival of the morning

Material cost 1,000 yen

※It needs advanced reservations.

 But we can take lectures if on the day there is space.

※Companion of protector is necessary for participation of child.

※When you cancel after the application, please contact by all means.

We devise original clay.

Production three-dimensional with works such as characters who are pretty by original design.

We deal with diorama and guttsu, illustration and picture,

We are holding local government yanendo classroom events in Japan.

Work is displayed in studio of Nippon Television leech naan death.

12:00 ...

Woman's voice chorus presentation

 Program

 ♪Skylark

 ♪Thread

Social education group circle

seiposuti

13:30 ...

Stagea traction & workshop

nendo creator ochappisan

24 part panda first arrival of the afternoon

Material cost 1,000 yen

※It needs advanced reservations.

 But we can take lectures if on the day there is space.

※Companion of protector is necessary for participation of child.

※When you cancel after the application, please contact by all means.

15:00 ...

Chair exercise

We refresh brain which we used!

We will do exercise to be easily possible by chair!

Air Lobi instructor Naoko Yamamoto
○About reservation of ochappisanno workshop, please contact the Social Education Division.
 ☎ 0175722111 (extension 513-518)
Permanent construction workshop
Workshop contents, please identify list shown below.
Workshop receptionist assumes (finished as soon as kit disappears again) until around 15:00, but please judge from state of booth on the day as you vary according to work contents.
Contents

Basket to make with craft belt

★One 1,200 yen

 From 90 minutes to 120 minutes

※Please bring room for making at time.

Sum - relief ...

washimawakako

The complainer Charon structure 15:00 end

★1,000 yen with 500 yen / two with one macaroon key ring

★Macaroon magnet two 1,000 yen

une reucoutre

Toko Kudo

Ear rifure (belonging to two jewelry) and futtorifure

★Ear rifure ten minutes 1,000 yen / 20 minutes 2,000 yen / jewelry + 500 yen

Reflection ward of body is in ear.

We heal body which massages ear, and is tired.

★Leg Romi ten minutes 1,000 yen / 20 minutes 2,000 yen

We massage leg kindly while being relaxed using oil.

Jyobo☀sun

Eriko Johoji

American flower

★500 yen made with broach of rose

Do you not make broach of rose with wire and dip liquid?

Flower studio NAKATA

Yoko Nakata

Of pebble is mini-bottle pendant shiningly

★One 1,000 yen

Put pebble of power stone and hologram of dazzling in the small bottle of glass

We finish to pendant.

Sakura Mint

Natsumi Sakurai

Aromatherapy

★Third medicine check experience approximately 15 minutes 1,500 yen

Physical state present as for the third medicine check from reaction of brain by likes and dislikes of fragrance

It is constitution diagnosis to read, and to solve. With eating habits advice for improvement of constitution

★Approximately ten minutes 1,000 yen made with protecting against insects spray of aroma

★Antipruritic made approximately ten minutes 1,500 yen of aroma

We can make protecting against insects spray and anti-itch cream using organic aroma.

RoseRose

Shino Mito

The making of scrap booking mini album

★Bind chic ring; album 1,000 yen

★Simply! Pop wall hangings album 500 yen

More than child who can use scissors are objects.

※30~60 share degree

Happy X Happy crop

Akemi Awaji

poseratsu

★poseratsu experience 1,500- yen

※Price varies according to tableware to choose.

Please put favorite transfer paper on pure white container.

It is transfer paper which one without confidence can use for picture for seal sense.

I take container and I burn in electric furnace of 800 degrees and hand later.

◎Delivery method of container

 ①Rokkasho village central public hall

 ②Cash on delivery correspondence

 ③We go to lecturer's house (Hachinohe) to take …Please choose among 3 patterns.

poseratsusaron shomu

Miyuki Kubo

Sugar-style lymph care

★Trial course 20 minutes 1,000 yen

★Whitening beauty treatment salon experience for free

Lymph care salon sai

Misa Yoneya

It is made with chikuchikukiruto happily

★Flower tulip of cloth

★Dried persimmon of cloth       For each 500 yen

We suggest work completed in a short time.

We want to have you experience pleasure to make and joy to be completed.

Kilt space 302

Ikuko Nakajima

Photo frame & accessory tray to make with glass tile

★For each 1,000 yen

Photo frame or accessory tray which displays cool glass tiles like summer, and is original

We make. How about for work of summer vacation?

HAND MADE COLORS

Michiyo Tajima

The making of liquid soap

★100 ml of 500 yen / 200 ml

★800 yen (about from ten minutes to 15 minutes)

If we choose fragrance, color, glycerin and mix with pump which liquid soap enters, it is completion.

Present of soap

Tomomi Toyokawa

We will make rose with soft clay

★Ball-point pen 500 yen

★Rose 700 yen with stem

We thin soft and fluffy clay with palm and will make rose.

Magic gardenia

Kaori Otsubo

Colorful her barium

★One 1,000 yen

We have you choose components of a flower arrangement kit of favorite color and make much-talked-about her barium.

Sun catcher of colorful flower

★One 500 yen

Ornament parts, flower, beads have you choose favorite color each,

We make pretty sun catcher shiningly.

Atelier muguet

God Sachiyo

The making of marbling broach

★600 yen ...

We color parts which we formed with resin clay by technique of marbling,

We coat with resin.

The making of hair rubber

★One 1,000 yen

pasha*pasha

Mutsumi Yanagimura

We talk, and re is smart

★1,500 yen (15 minutes)

We stroll around re smart o while talking.

※That re is smart; of ... anywhere or condition when is not good, person exposes hand to the point unconsciously. It sends energy from hand. We fix using the energy.

Birthday judgment (constitution balance)

★1,500 yen (copy)

We judge constitution of the person from the date of birth and do advice to fix balance using daily meals or colors.

Oasis

We tola Maki
Others
There is kids space in venue. (※ library staff helps)
On the day we carry out questionnaire. As there is present of small present, please cooperate by all means.
Poster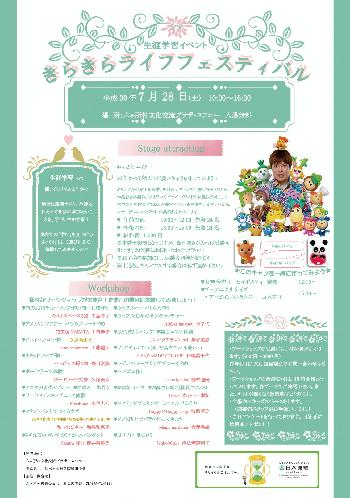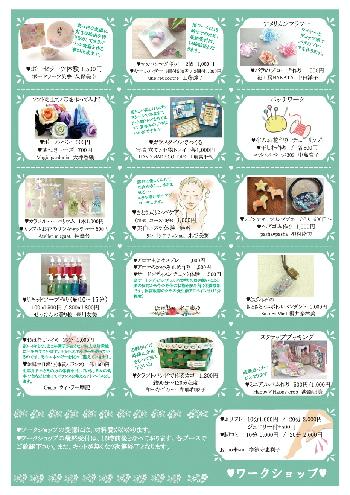 Poster data become this pdf file
.

Published: August 2, 2011 / Updated: July 5, 2018